If you're a regular around here, you know that I am not one to post about fashion very often. I did have the opportunity to be a guest blogger over at Sugar and Dots for awhile, which was fun, and I occasionally put together outfits that incorporate the new Scentsy Family Grace Adele line over on my Grace Adele blog (yes, I do have another blog – it's hit or miss on those posts though…), but fashion just isn't really my thing.
Let's be real: on most days, you'll find me in my yoga pants – or some other workout attire. I've been trying so hard to get some of this weight off, and it's definitely a slow process (soooo quick to pile on though!! ugh.), but I try to make it to my Stroller Strides/Fit 4 Mom class at least twice a week, and then go running a few days a week as well. After that it's home, lunch, naptime, and then playtime – I'm lucky if I even get a shower or have the chance to change out of my stinky workout clothes!
So, when I actually got all prettied up for the Elevate Blog Conference I made sure to have the hubby snap a few photos – albeit from my iPhone (but, hey, it's proof that I really did get dressed, right?!). Today, I'm sharing my Elevate Blog Conference outfit with you, and I'm excited to be linking up with The Pleated Poppy for the first time!
While it's not the best "What I Wore Wednesday" post, (meaning you don't get close-ups or any of that fancy business) it's better than nothing – so here ya go:
Items include:
Top – CAbi Front & Center Top
Lace Trim Tank – Nordstrom
Jeans – Nordstrom (seriously love the NYDJ brand!)
Shoes – Steve Madden (soooo old, but I just can't get rid of them!)
Crystal Ball Earrings – Cupcake
Necklace – Origami Owl
And, of course, the girls had to get in on the photo, so here's their princess jammies and diaper style: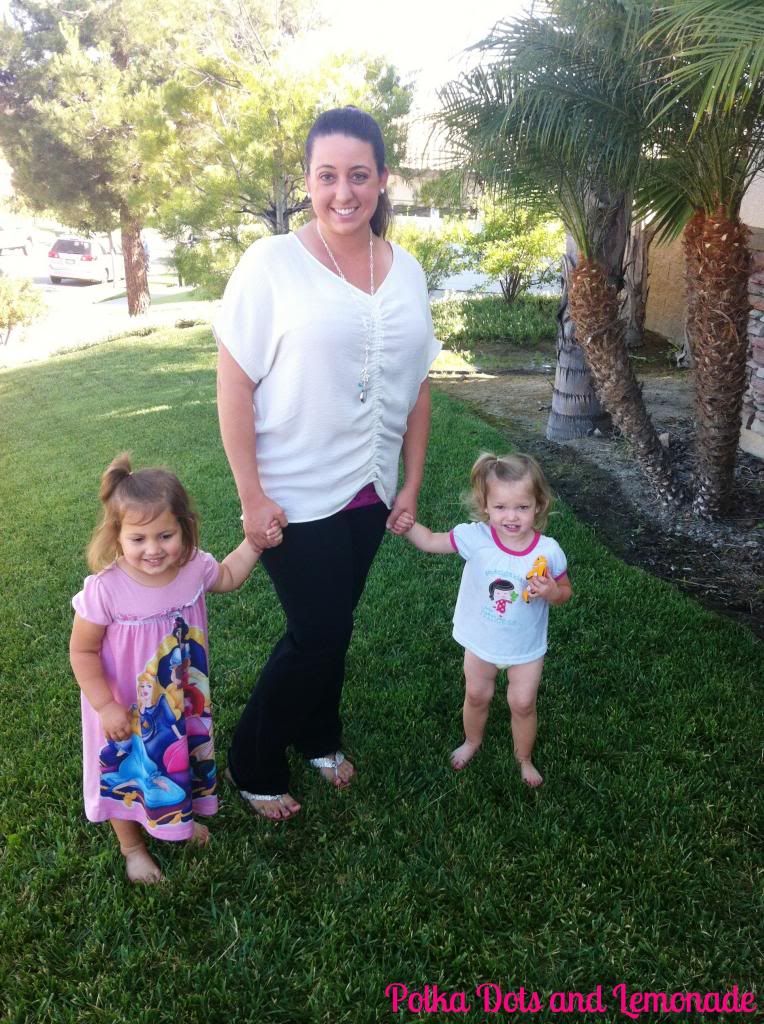 So, there you have it! This may be one of the only What I Wore posts you will ever see around here – but actually getting dressed up once is better than never, right?
I'll have a few more posts about the Elevate Blog Conference over the next couple of weeks, so make sure you come back soon to see all the awesomeness from it! In the meantime, I would love to have you leave me your feedback, if you haven't already!