I can't even begin to thank everyone who shared their creative side in my first link-up! You guys are awesome!
I absolutely loved all of them, but here are a couple of my favorites:
Skateboard Wedding Sign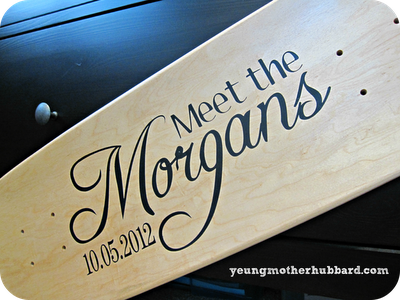 I'm totally with Nichole from Yeung Mother Hubbard, in that I love making wood signs. She even had the best question in her blog post: "How many personalized signs are too much in one house?" Totally relatable! I found it so unbelievably sweet that she was asked to make a personalized skateboard for a wedding – not only was it used as a photo prop, but also as the guest book. What an amazing keepsake!
Onesie Cupcakes
Stop it. Right. Now. Onesie cupcakes?! Completely and utterly adorable. Rebeccca from Let Them Eat Cake completely blew me away with this super cute gift idea. Check out the attention to detail, down to the packaging! LOVE.
Ready to link-up?! Remember:
You must link to the actual craft, recipe, project post, NOT your blog address
Comment love is always appreciated, so comment on your favorite inspirations (it's also a great way to meet new people and make new friends!)
You don't have to post my button anywhere, although it is available if you would like!
If you do link up a project (or 2 or 3!) I do ask that you please follow this blog
Don't forget to share this linky party with others so that your creativeness gets more views!