Let's cut straight to the chase today, shall we? Here are my absolute favorite ideas from the What I Whipped Up Wednesday link-up over at Sugar and Dots:
Pumpkins
Fall is FINALLY here! In case you haven't been paying attention, I've been all about fall lately. My creative juices are flowing, and I'm just itching to make some cute fall decor to spruce up this ol' rental house! These pumpkins from
Sarah Dawn Designs
are so completely adorable, and I LOVE that they are sparkly!
Chocolate Chip Cookie Dough Bites
OMG. I've been dying for something sweet in the house. But, I never have anything because I will eat
too much
the entire amount in one sitting. But, I have everything that I need for this yummy recipe from
Shaken Together
, already in my kitchen. Which means it's just begging to be made.
Sports-Themed Wall Art
While I do not have boys, I couldn't help but admire all of the "boy" themed links this week. One of my favorites was this sports-themed wall art idea from
Better Organized Living
. I'm one of those people who can't stand shelling out money for something that I can totally make myself, especially when it comes to wall art, which can get pretty pricey. I thought this was such a cute idea, and it can easily be adapted for any theme!
Keep Calm and Candy Corn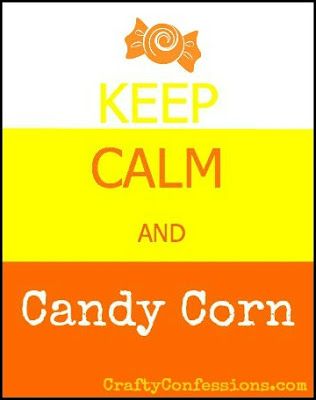 Now that fall is here, Halloween is on its way. While I'm not a huge fan of candy corn as a snack, I do like the look of it when incorporated in to art. And, because the "Keep Calm" meme is so popular right now, this printable from
Crafty Confessions
is perfect! Plus, when I saw it, it totally made me laugh because it reminded me of my friend Summer from
Made By Munchie's Mama
and then candy corn oreos that she found.
Quinoa with Black Beans and Corn
I love quinoa. And I love black beans. And I love corn. So, when I came across this recipe from
Fashioned 4 You
it definitely caught my eye. The hubby is a picky eater, so I always try to make new things that incorporate things he might like, too. For example, he doesn't prefer quinoa. But, he does like black beans and corn. So, this is on the list to try!
Head over to Sugar and Dots and link up your crafty creations. Plus, don't forget to enter the givewaway for a Starbucks gift card!